That's right…I said free. For those of you who stopped by yesterday, the big announcement about something I've never done before:  have a book up for free!  For the next two weeks, Northern Exposure, the first book in the Compass Brothers series, will be free at Amazon, Barnes and Noble, and Sony. This is a great chance to give the series a try, but you need to move fast. This opportunity runs out on Jan. 28.  I can honestly say these four books that Mari and I wrote together have been a journey for both the Compass Brothers and myself.  I am infinitely proud of the end result and I hope you enjoy the brothers' stories.  Happy FREE reading!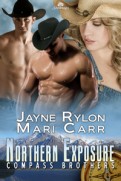 All roads lead home when that's where you've left your heart.
Compass Brothers, Book 1
Silas Compton always had his eye on Lucy, the veterinarian's daughter. He was even content to wait for the girl of his dreams to grow up before getting anywhere near her with his family's double-edged legacy.
Waiting around led to fooling around with his best friend—and an impulsive eruption of desire that Lucy's innocent eyes weren't meant to see. Figuring Compton Pass wasn't big enough for the three of them or the pain he'd caused, Silas let loose his tightly reined wanderlust and headed for Alaska.
Ten years later, when an oil rig accident sends him home, he braces himself for the reopening of old wounds. Instead he finds himself in the care—and welcoming arms—of Lucy and Colby, whose marriage has plenty of room for the man they both still love. And forgive with all their hearts.
As things start to unravel at Compass Ranch, Silas must dig deep for the strength to assume his rightful place in theComptonfamily…and lay the foundation for a future with his lovers. If he can forgive himself.
Warning: This book is overflowing with sexy cowboys who like to saddle up and ride each other as well as the woman of their dreams. The likelihood of becoming addicted to their ranch family is high. With three more stories yet to come, beware. You won't be able read just one!
Jayne
www.jaynerylon.com